PINEAPPLE ICE SALT PLUS BY BLVK 30ML IN DUBAI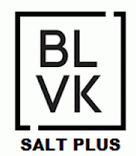 Pineapple Ice Salt Plus By Blvk, capturing heaven-sent notes of tangy pineapple enhanced with a splash of menthol for a deliciously fruity iced concoction that will dazzle the taste buds.
Pineapple Ice Salt Plus By Blvk consists of exquisitely juicy, freshly cut chunks from the ripest pineapples in the islands. This pineapple provides you with a flavor profile that's both sweet and bright, making you feel like you're enjoying a slice of paradise in your own home. Drenching the tongue in pure juiciness before a cool menthol breeze kicks in leaves you feeling exhilarated all over.
Primary Flavors: Sweet Pineapple, Cool Menthol. 
PINEAPPLE ICE – BLVK SALT PLUS Specifications:
PG: 50%
VG: 50%
Nicotine Strengths: 35mg, 50mg
Sizes: 30ml
Steep Time: Pre-Steeped
Manufactured in: USA
NOTE: DO NOT USE NICOTINE SALT E-JUICES WITH SUB-OHM COILS OR REBUILDABLE ATOMIZERS. THESE MUST BE USED WITH HIGH-RESISTANCE, LOW-OUTPUT DEVICES.