Best I Love Salts Peach Mango 30ml In Dubai UAE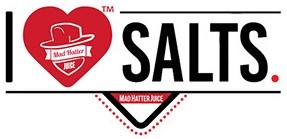 I Love Salts Peach Mango 30ml Mad Hatter Juice consists of juicy and tropical mango and nice southern peaches that are blended with a rich smooth creamy base. Think of freshly picked Georgia peaches colliding with tangy mango slices to create a great summertime refresher.
Peaches get to work, lifting your mood with a brightness that reminds you of beautiful orchards in Georgia. Next comes juicy mangoes with a succulent tanginess that makes you think of tropical beaches. As the vapor sits on the palate, those candied notes come through, making the sweet tooth swoon. Then, when you exhale, a cold rush of iciness chills to the core.
I Love Salts Peach Mango 30ml Mad Hatter Juice arrives in a small bottle with an amazing cloud-chasing mix of 50/50 VG/PG.
This hits the spot on such a profound level, you'll find yourself feeling euphoric whenever you let those clouds soak into your tongue.
Package Contents Include: 
VG/PG: 70/30
Flavor Profile: Peach, Mango