Iced Berry Kiwi By Blvk Pink E-Liquid 60ml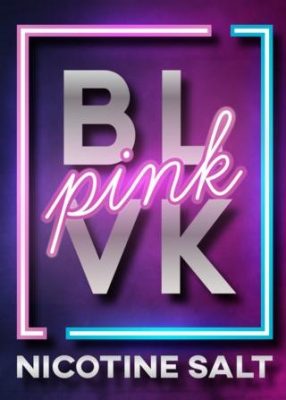 The Juice Iced Berry Kiwi By Blvk Pink is a blend of strawberries Kiwi, united with that stocky gelatin. Feel, Vapor, and Relax!
Strawberry Kiwi E-Juice by BLVK pink E-Liquid 60ml combines authentic strawberry and kiwi flavors, you will swear that you are biting into juicy fruit while you vape away. Because the flavoring extracts used to make Strawberry Kiwi E-Juice are of unparalleled quality, you most likely will enjoy the subtle complexities that each fruit has to offer. There is just something about the combination of strawberry and kiwi flavors that is well…incredibly satisfying. These two fruits complement each other unlike anything else, and immediately bring to mind those happy and enjoyable memories of summers from your early years.
The flavor team behind the Blvk E-Juice brand has totally nailed this iconic and nostalgic combination of rich fruity flavors by creating Iced Berry Kiwi By Blvk Pink  E-Juice. One hit of this sweet and tangy vape juice, and you will be transported back to long summer afternoons spent playing outdoors.
Best buy Iced Berry Kiwi By Blvk Pink 60ml with 40 AED
This liquid has a  ratio of 50VG and 50PG which makes it suitable for use in pods or MOD. The nicotine used is low concentration Nic salt.
Details about Pink Iced Berry Kiwi 60ML – BLVK Unicorn E-Liquid
The proportion of VG/PG = 50/50
Available in 3MG, and 6MG Nicotine NicSalt contents
100% Made in California – USA
Original product