Shop Now I love salts Wild Watermelon 30ml In UAE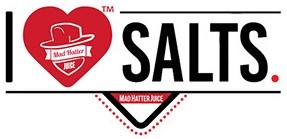 Mad Hatter Juice I love salts Wild Watermelon 30ml allows you to take a slice of summer breeze wherever you go. This flavor is a perfect refreshing watermelon blast.
Bombarding your airways with a mouth full of watermelon flavor, Wild Watermelon by I Love Salts is certainly the go-to vape for those looking for loads of potent mouthwatering taste. This extremely satisfying flavor is sure to become a favorite, as you'll experience an intense watermelon flavor that never grows old.
I love salts Wild Watermelon 30ml Feature:
VG: 50%
PG: 50%
30 mL of e-juice
Plastic dripper bottle
By Mad Hatter Juice; manufactured in the USA
Available in 25 mg and 50 mg nicotine strengths
Store at room temperature
Comes pre-steeped and ready to vape
Shake well before use
Made with salt nicotine
Flavor Profile: Watermelon
Bottle Size: 30ml
Vg/pg: 50/50
Bestvapecity is highly committed to our customers, we stand behind our products and customers.